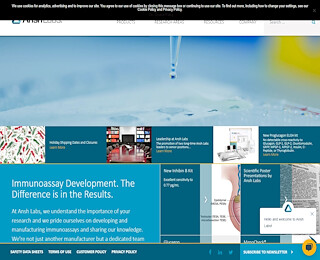 Primary Guide to Inhibin B Tool
In terms of modernized strategies and procedures for developing laboratory or clinical tools for medical research, Ansh Labs has already molded its name as one of the top providers of biomedical materials for study and experiments.
Our main goal is to provide quality-based research products and also to consistently meet the expectations as well as the needs of each of our client to fully attain fruitful data analysis and research success.
The Ansh Innovation
Our company continuously supports medical development through research works in order to improve healthcare approaches and systems presently executed in many medical institutions. In addition, we also visualize producing more biotechnological means and solutions to enhance, protect and advance human living.
We have full pledged experts and skilled clinical team members who continuously boost our full potential in innovating each product approach for customizing or recreating clinical tools that accurately fits the needs of medical researchers.
We focus on fully developing the applications of medicine in terms of human reproductive treatment and procedure, types of disorders including neurodegenerative, oncology, and others. We ensure top quality of assay products which are all maturing and evolving for the purpose of medical translations and testing services such as the biomarker for preclinical tests that are conducted all over the world.
Inhibin B Product Varieties
We offer a wide range of tool kit products that are most helpful in many studies conducted all over the world either for the purpose of medical treatment, new hospital approach or even for biomedical discovery. For the Inhibin B product, we also have various options to choose from.
The ELISA (Enzyme Linked Immunosorbent Assay) type of Inhibin B kit is composed of materials specializes for measuring the quantitative element of Inhibin B found in a human serum including all other fluids which are considered biological. This type of kit is fully equipped and designed solely for laboratory purposes such as clinical research but is not allowed for any diagnostic as well as therapeutic medications.
Technically, an Inhibin B compound is derived from a TGF-beta type of group which concentrates on biological enhancement and regulation movements such as the differentiation and proliferation procedure of cells, and the persistence or survival of neurons. In order to establish a precise diffusion or neutralization of Inhibin B, you need to use the antagonist type of TGF-beta, Follistatin.
We also have other types of clinical tools used as research material as well as to support biomedical procedures. These include types of biochemical, monoclonal antibodies, immunoassays and other animal types, antigens, and protein types. We also have a wide range of tools including reagents for clinical studies, reproductive procedure, pregnancy, metabolism, oncology, neuronal types of disorders, factors of growth, and diseases for the cardiovascular system. Aside from the existing products, we are continuously producing more clinical tools and other helpful kit products for research development.
Contact Us
Ansh Labs can provide you with more specifications for each product that you can find at our official website at www.anshlabs.com. Using the site, you can as well send us messages for your other concerns, inquiries, or requests.
Ansh Labs LLC
281-404-0260
445 Medical Center Blvd, Webster, TX 77598
View Larger Map