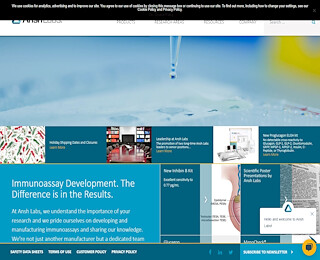 Planning for a pregnancy? If so, then you need to know about the anti-Müllerian hormone (AMH).  AMH is produced inside of women's ovaries by the primary follicles. The anti-Müllerian hormone has many applications in testing, diagnosing and treating women's fertility. Ansh Labs provides AMH testing to estimate the ovarian reserve relative to a "normal" woman's reserve of the same age. Whereas men continually create sperm, women are born with their lifetime's supply of eggs. When planning for pregnancy, knowing ovarian reserve levels can be invaluable.
The AMH Test
The anti-Müllerian hormone test is a blood test that approximates the number of eggs that lie inside of a woman's ovaries. Administered by a fertility specialist, AMH testing can help determine which women make good candidates for IVF and egg freezing and which ones don't. The test gives your fertility specialist an idea of how successful your fertility treatments might be. However, it is important to note that AMH testing doesn't indicate the likelihood of a woman becoming pregnant through intercourse in the future. 
Who should have an AMH test?
Anti-Müllerian hormone testing is ideal for women who are considering all of their fertility options. Whether determining the ovarian reserve, planning for IVF, or considering fertility treatment, the AMH test can help you make the best choice for you and your family. Of course, Ansh Labs provides novel AMH test kits that are reliable and accurate 100% of the time. Depending on a woman's fertility goals, anti-Müllerian hormone testing assists in personalizing a strategy that will achieve your desired treatment outcomes.
What factors contribute to a low AMH?
Age is the most significant contributor to a woman's AMH levels. At birth, women have already produced all the eggs that they will release over a lifetime. It's hard to come up with an average amount of eggs that women create, because the number varies significantly from woman to woman, and some factors, including genetics, determine the starting number of eggs. Regardless of a woman's egg count, her ovarian reserve will be depleted dramatically throughout her young adult life.
Until the age of 30, women lose eggs at a steady rate. However, after 30 years, women begin losing eggs much more rapidly. This is one of the main reasons why older women typically don't give birth. Their egg supply is lost, and there are other changes in the body and reproductive system as well. It should be noted, before considering an anti-Müllerian hormone test, you should speak to your fertility specialist.  Also, AMH levels can be inaccurate when women are taking birth control and especially when women have hypothalamic dysfunction.
Measuring the Results of Your AMH Test
Anti-Müllerian hormone testing cannot indicate a woman's egg quality. The best way to determine the quality of a woman's eggs and the likelihood of an egg becoming a fetus is by considering the woman's age. Anti-Müllerian hormone testing only measures the number of eggs in a woman and can give a picture of how many eggs might develop during fertility treatment. 
Dealing with Low AMH
If a woman has low AMH levels, it can significantly reduce the chances of her having a baby. Low AMH levels also play a part in determining if a woman is a good candidate for fertility treatment options. At this point, there's no known cure nor therapy for low AMH. These types of cases call for proactive actions.
Anti-Mullerian Hormone
Ansh Labs LLC
281-404-0260
445 Medical Center Blvd
Webster
TX
77598
View Larger Map
We welcome your comments!