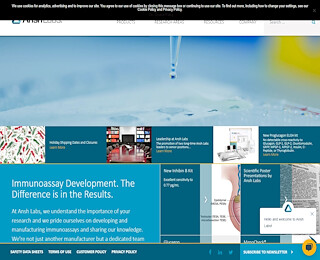 Activin B Top Features and Uses
Nowadays, medical research serves as a very significant toll in discovering and developing various state-of-the-art therapies and treatment for severe as well as new borne diseases. Most quantitative and clinical studies aim to enhance different medical approaches to improve human life by developing research tools and innovative diagnostics. One of the most trusted research laboratories is the Ansh Labs. The company accurately provides strategies and devices for biomedical types of studies as well as for clinical specification through our wide range of research products in order to attain the smooth flow of each study analysis and scientific data procedures.
What We Provide at Ansh
We primarily develop immunoassay types of reagents which are used as a part of test kits to support in achieving the reliable, precise, and valid output of clinical studies. We also provide detailed specification of high or low potential types of biomarkers. We also distinguish various antibodies present and needed to maximize site binding and evaluating probable assays to be used for each diagnostic.
Moreover, we also provide marketable and most in-demand types of assays through an advanced approach which is more affordable compared to tools from other labs. Hence, we have molded our trust from our loyal clients.
Our company is membered with experienced and well-versed teams who can give advice and support any development or test for validation for recreating or redesigning new tools and assays that best suit your requirement for research.
Activin B Specifications
ELISA Type
One of the most well-known lab products that we have is Activin B which is an Enzyme Linked Immunosorbent Assay (ELISA) type of clinical kit that quantitatively enhances and measures the Activin B content found in various genetic or human fluids such as the lithium type of heparin plasma as well as the human serums.
The colorimetric findings can be done through dual absorbent of a wavelength at a rate of 450 nm and at 630 nm as part of a filter reference. Also, the standard dynamic rate ranges from 6, 12.7 to 1400 pg/mL with assay time with at least 3.5 hours and with serum as the sample type.
For Activin B, the reactivity species include canine, ovine, rabbit, human, equine, and caprine with at least 24 months of shelf life which are all available worldwide.
Neutralizing Type
The neutral type of Activin B includes BetaB subunit (AA042), mAb, and the lgG1. This product appeared to have a colorless form with clear solutions and is usually shipped on sealed dry ice to maintain temperature level. It has a neutralizing Ab capacity for application and sourced from murine.
Mouse Type
This is the type of ELISA kit Activin B utilized as materials for any quantitative validation of Activin B composition particularly in mouse serum and in other biological or genetic fluids. It has a detection limit of 5.28 pg/mL with dynamic quantity ranges from 6, 20 to 2000 pg/mL. This product has a shelf life of at least 24 months and is shipped globally.
In general, we cater other types of tool products as well which are already proven by our long term individual and company clients. We also have tools for the reproductive purpose, pregnancy, oncology, metabolism, growth factors, and others.
Contact Details
For clearer and a more detailed view of our products, you may visit the Ansh Labs official website at www.anshlabs.com. 
Ansh Labs LLC
281-404-0260
445 Medical Center Blvd, Webster, TX 77598
View Larger Map